On Watch… read the article
15 March 2016
If you haven't managed to find a copy of Manor Magazine, you can read the full article here: MANOR 008 naomi hart.
I'll be doing another illustrated talk about the expedition as part of Exeter Phoenix 'Last Wednesday' series of artists' talks on April 27th at 5pm.  See here for a link to book.
Manor Magazine
12 February 2016
Huge Thank you to Belinda Dillon and Manor Magazine for the beautiful article in this month's issue.  You can get a copy from WHSmiths in the south west or at stations anywhere along the trainline from London to Cornwall.  It gives you a bit of the background to last year's voyage to the Arctic as Expedition Artist; if you want more, come to a talk!
Alone
4 August 2015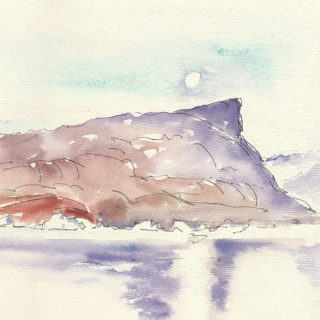 3-4 August 2015
Anchored opposite Roede Oe (Red Island).
We are on day/night reversal – it makes very little difference anymore, 'I don't know whether it's Christmas or Tuesday'.
This place is so beautiful.
I am alone on Ezra.
Alone in the world.
Fogbound in the ice
25 July 2015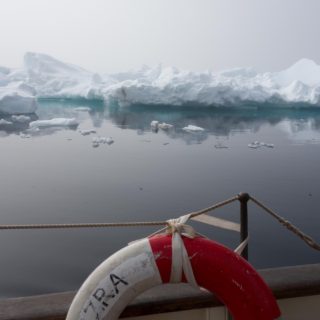 24 July 2015 00:30
I can't quite believe I'm writing this.  We are moored up to an ice floe, now stern into one and bows into another, about 15 nautical miles SSE of Scoresby Sund in the Denmark Strait (previously the Greenland Sea).  I've just been out to check the weather – still foggy, so no point waking everyone to carry on – and we are drifting at about 0.9 nm per hour south, as we are now caught in the current.  Other than the first few minutes when we first saw the icebergs, I am not scared.  Though perhaps I should be.
Leaving Husavik I was sick as a dog for 48 hours, vomiting about 12 times until the end was that brilliant greeny-yellow colour of bile and stomach acid.  I tried 3 times to make my watches, but could not stand or sit upright, so ended up on the saloon settee, in everyone's way, opening my eyes to see them coming or going from watch – wet, cold, sick, tired and having to do extra because of me.  I have had half a glass of cranberry juice, 2 bites of bread and half a cup-a-soup in 48 hours.  Urine, when I first go and for the next 10 hours is a violent sunset orange – slightly more alarming than the fluorescent yellow after D gave me Vitamin C tablets.
Sounds of sailing
5 July 2015
Sunday 5th July 2015
R, D and S letting out reefs in the middle of the 'night' (as all sleeps between watches have become).  Banging waves, to silence as they 'heave to'.  The stomping, squeaking, muffled voices, banging and creaking of ropes, then the gentle swish of water one and a half inches away from my ear as we get going, not fast enough, more banging, stomping, creaking, jibe!, jibe! then we are going again.
The bang, bang like a galley door of the staysail sheet pulling through the block above my head.
The clatter-clatter drone of the engine cruising at 1500 rpm.  At one particular speed it sets off beeping, something wrong with the alternator.
But the stove is lit, now the waves are not crashing over the deck, so inside is at least warm.  I still don't want to do anything except sleep.
I couldn't do this for a living.
Sula Sgeir
2 July 2015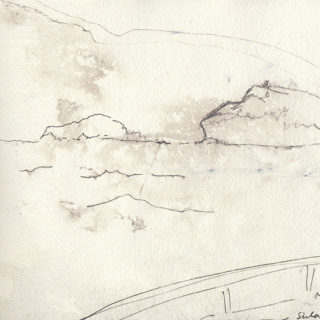 Thursday 2nd July
We saw a few more dolphin and delicate grey mountains against grey water and grey sky.  It has been fifty shades of grey since Oban.
A day and a half sailing, through the Minch – leaving the Shiant Isles and their 300,000 puffins behind – just sea, no land, then suddenly, out of the mist, up rose Booby Rock, Sula Sgeir; a surreal, dark lump in the middle of the North Atlantic covered in guano and thousands of nesting gannets.  Wheeling round and round in formation, dark against the sky, white against the rock, virtually silent.  The rock had small cairns on top of its 80ft sheer cliffs – old lighthouses the only sign that humans had ever witnessed this unearthly sight.  Our first glimpse came just over a mile away, through the mist and the cloud, it loomed up, the rain eased, then poured down all over the sketchbook, washing away the colour from my painting.  We rounded the rock then left the surreal little world to itself.  Ten minutes later it was invisible and we saw no more land for two days.
Leaving Skomer
22 June 2015
Monday 22nd June, 2015
Darkness, thousands of stars and at 1am finally the bay is filled with the cries of thousands of returning shearwater 'a bit like strangled cockerels' (Amber).
We sleep.  My alarm set for 6.30am to be on board to leave at 7am.  No-one else wakes.  Wake Ron, asking if they'd changed plans again, but no, his phone had no charge so the alarm didn't go off.  We motor off to sail to Ireland.  Bacon sandwiches after changing a gas bottle, then coffee, sleep, sailing – a good wind (westerly) and sailing at over 8 knots, a new record for Ezra. It calms and I take the helm, order a cup of tea, and immediately a 'small vessel warning: Force 6 wind all around the Irish Coast' is issued, so suddenly we are at a 30 degree angle and waves coming over the side of the deck all the time.  Three months ago I never thought I'd be able to do this.
Driftwood Cross
28 July 2014
My Driftwood Cross has taken up semi-permanent residence in the Chapel of St James at Exeter Cathedral – the one that was bombed in the Blitz on the south side.
Exeter Cathedral
17 March 2014
I have been commissioned to make a cross for Exeter Cathedral for a special Lent service.
All About Migration
5 September 2013
The culmination of a world-wide, public-participation, art-science collaboration with Exeter University, from Saturday 14 September until Sunday 22nd.  See www.allaboutmigration.com for more details.
Blog archive: