Art at Yarner
5 September 2013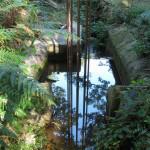 New work installed at Yarner Wood, Dartmoor as part of Art at Yarner, Devon Open Studios, open as part of an art trail 7-22 September 2013.
Showing at Gloss Gallery, Exeter
17 June 2013
Some of my work will be in Gloss Gallery, Exeter from 4th July to 24th August with Devon Artist Network.. do come along and have a look!
Travel sketchbooks
17 June 2013
A new course in learning how to keep a travel sketchbook, led by Naomi Hart (as seen in Devon Life and Exeter Life Magazines).  3 week course starting Monday 1st July.  3 Monday evenings (1,8,15 July) from 7pm to 9pm, £35 for the course, materials included.  We will look at different versions of travel journals and learn techniques with drawing, cutting, collage and writing to help you find your own technique.
Booking essential, only 2 places left!
First steps in Watercolour
24 April 2013
Thursday 30th May 10am – 3pm £30 Booking essential

Watercolour is an exciting and beautiful medium but it has a reputation for being difficult to do well.  Artist and teacher Steven Bramble will lead you through the process of painting a simple object or still-life, covering composition, sketching-in, colour mixing and painting techniques. This will be a 'hands on' day but while we're working Steven will talk about materials, show you how to stretch paper and we'll look at some of the history of the subject.
This workshop is aimed at beginners but if you already have some experience it will be an opportunity to extend your skill.
Steven has been painting watercolours for over 40 years and has wide experience of teaching it. He has exhibited throughout this time and has work in many private and public collections in this country and abroad.
Please bring your own materials if you have them, particularly paints.  We will have limited materials available for you to use if you don't have anything.

Drawing Saturdays in May
23 April 2013
May 4th and 18th, 10am – 1pm, come and join the friendly drawing workshops at Hope Hall.  Covering anything from pastel, pencil, shading, composition, and exercises to warm up and loosen up your drawing.  Tea and coffee available, if it's sunny we can even sit in the walled garden.  Book now! Only £15 a session, with all materials provided.
Carnet de voyage
4 March 2013
Learn to keep your own 'Carnet de voyage' – a travel sketchbook journal – with Naomi Hart.  Monday evenings 7pm-9pm 15th, 22nd 29th April at Hope Hall.  Beginners welcome, we will cover drawing and painting, collage, writing and how to choose what to put in.  £35 for the 3-week course.
Devon Life
26 February 2013
Very proud to be in March Devon Life!  Hopefully I'll attach a file you can look at here.
Exeter Open Studios
25 February 2013
March 22 – 24  11am – 6pm
at Hope Hall, Hope Road, Heavitree EX2 5HT.. Artists Naomi Hart, Katya Romankevich and Steven Bramble exhibiting and there's coffee and cake!
Screenprinting
25 February 2013
Screenprinting course – 5 week course Wednesday evenings 7pm-9pm with Phil Keen. Starts on April 17th runs to May 15th.  Beginners welcome, basic materials provided. £65.
Handmade books
25 February 2013
Make your own sketchbook, with bookbinding expert Joanna Radford who regularly teaches at Dartington.  Joanna will show you a technique to make a sturdy yet beautiful bound sketchbook, ready for your holidays or keeping those favourite recipes or poems.  No previous experience necessary (trust me, I've done it!).  Saturday 20th April, £25 with basic materials included, contact me for details and to book
Blog archive: