Climate Change exhibition
3 February 2010
I shall be exhibiting with Denbighshire Arts in Rhyl from 27th Feb to 10th April.  The theme is Climate Change.  One piece is a basket woven from yew, holly and eucalyptus bark, highlighting themes of introduced and indigenous species.  Another is a photoetching (process learnt with Double Elephant in Exeter – thanks!) using images of sea and a sculpture in Ottawa of two figures on a bench with an apple, entitled 'the secret bench of knowledge' by Lea Vivot.  The third is a photo I took in Terra Nova of the last days of a 'bergy bit' (iceberg) trapped in the warm waters around the park.  I've called it 'Endangered, Threatened, Extirpated, Extinct' from four of the internationally recognised stages of extinction.  Dave Coté is the last man standing.
Fugue
17 December 2009
The latest commission finally complete, after very patient waiting from my patrons.
New work
5 November 2009
It feels so good to be in a space painting again.  Just playing around with colours and layers.  Trying not to have too clear an idea of what I want it to look like.  I may have some of these in the Open Studios just to see what kind of reaction they get.  It's nice to have some new work – I feel like my ideas had stagnated a bit.
leave the island
7 August 2009
Gros Morne was everything everyone says it is.  Phenomenal rock formations set out a little bit like some kind of giant geology lesson, beautiful small villages, a hospital turned into a youth hostel with the curtains, wards, operating theatre and instruments still intact (I don't think I had any operations, but I slept well, so who knows?).
And then I had to leave the island.  After 5 weeks of rocks and forests, it is odd and startling to be in a city.  The skyscrapers seem like the walls of fjords, there is food I had forgotten existed on every corner with people rushing and circling round the underground mall cafes like so many whales chasing the capelin around the coastline.  Drugged arguments in the street and sunny cafes selling crêpes and café au lait, road rage and jazz saxophonists, piss-stinking alleyways and the rainbow lights of the Palais des Congres, dungeon-like youth hostels and free international fireworks competitions, and I just happened to arrive for the FrancoFolies free music festival, with hundreds of brilliant musicians playing on stages all around the city centre….
"O happy sight"
26 July 2009
The backbone of the giant turtle of Newfoundland is the Highway.  Highway One.  To distinguish it from…  there are no others.  Smaller roads radiate off towards the edges of the turtle's back – small fishing communities reeling from the fact that they can no longer fish.  Some have turned to tourism, opening small museums about life "in the old days" filled with "really old stuff" usually dating from around 1960.  The museums are staffed by school students, earning a few dollars in a holiday job.
  They don't know much about the exhibits, but are usually chatty and friendly, and offer up information about the village, and the fact that for the first time ever, their father has had to go to Alberta for the season to find work.
One such museum is in King's Cove, near Bonavista, the supposed point where John Cabot first cried "O happy sight" in 1497.  Possibly less to do with the actual place – it is flat and rocky and feels as if it is just about to succumb to the wind and the waves, but more to do with the fact that it wasn't the vast, turbulent, semifrozen, foggy, storm-ridden Atlantic that has claimed so many seafaring lives.  I visited a replica of his ship.  It is about the size of a large living-room.  In that, with no GPS, no maps, no Met Office Shipping News, he found the land of white gold.
I stayed in Bonavista, as it has the only hostel for 300km, but was actually trying to get to King's Cove, where my great-uncle came out in the 1870s as an accountant in the cod trade.
I had minimal information on him.  My aunt had done some research in the 80's and found the location of King's Cove and some of his letters to his brother back in England.  I figured if I could just get to the village, take a few photos for Dad, get a feel of the place, then that would do me.  Funny thing about Newfoundland, is it doesn't let you just scrape the surface, it pulls you in.
To cut a long story short, I got a ride from the hostel owner to King's Cove.  En route we stopped at her aunt's shop where a distant cousin of mine (it turns out) was shopping.  He actually lives in Ontario, but was in King's Cove that week on holiday.  He told me who to go and see.  I turned up on the doorstep of a small, white, wooden house and explained to the patient 70 year-old woman what I was looking for.  She invited me in and proceeded to tell me that she had known my great-uncle and his daughter regularly used to come round and sit in that very living-room and gossip.  She then took me round the cemeteries until we found the gravestones of all the family, then to my great-uncle's old house, in the process of being renovated, showed me where the building stood in which he worked, and the Church he would have attended.   She then invited me back to hers for "a cup of tea" which turned out to be a full baked Cod Dinner, and as I finally managed to extricate myself from the house with my grateful thanks for all her help, gave me a pair of hand-knitted woollen mittens as a gift.  That's Newfoundland.
I walked up towards the lighthouse, met the people I had met in the shop that morning who fed me some more and told me to look them up when I got to Toronto.  I finally made it to the lighthouse and the spectacular rock formations that make up that part of the coastline, and was thinking how lucky I had been to find everything I had wanted to see when first a minke whale and then a humpback whale swam round the coastline not 40 metres below me.  That's Newfoundland.
Artist in Residence
19 July 2009
 This has to be the best job in the world.
For those to whom I didn't explain, I am not just here on a jolly, I am the official Artist in Residence for Terra Nova National Park, Newfoundland, for the month of July.
It's tough, but somebody has to do it.  I get a little cabin to myself – somewhat 1950's in decor,
 and the water system gets airlocks every hour or so and splutters and kicks its way along, delivering a pleasant-tasting, but distinctly brown-tinted peaty water into my glass.
Behind me is a little weather station, collecting data from the park, and to one side the cell-phone tower, though ironically I have absolutely no cell-phone coverage as I am on the wrong network.
Other than that, just trees, snowshoe hares, squirrels, and the odd moose.  Down the drive the coastguards sit and wait for calls, round the corner is the hub of the park – the compound – surrounded by wire fences and somewhat resembling a prison, where the scientists, ecologists, interpreters, managers and 'Res Con' (resource conservation) people sit, work, phone, have meetings, count, identify species and run the park. 
As artist-in-residence, I am warmly welcomed by everyone I meet, and they then usually break off whatever they are doing to explain some intricate detail of their work, tell me where the best rocks are found, organize a place for me on a boat that is going out to the coast, find me a radio for when I am dropped off on some remote peninsular, get me a lift to some part of the park I cannot walk to, etc etc.  
The year's list of all the scientific projects going on fills a large part of one wall of a room..  Today, if the weather cooperates, a team specially flown in from Alberta and Quebec will carry out a prescribed burn in a remote area of the park.  Burning is necessary for regeneration of the forest, too many years' suppression of fires has led to a change in the ecology of the park, but local residents are obviously worried by large fires, so the process has to be tremendously well-planned.  It is fascinating talking to some of the 'firestarters', about techniques for control of fire, preparation, the equipment used to start fires, but ultimately they depend on nature playing along.  A large patch of burned forest by the highway is testament to a prescribed burn which got out of hand a couple of years ago.
On the first day
14 July 2009
On the first day, God created the Rock, the sea, the trees and the beaver, because the beaver is a good engineer and invented the freezer (what have beavers ever done for us?), and s/he saw that it was good but a bit cold.  S/he created an artist to sit in this place and wonder at it and try to figure out how to represent it.
On the second day, God created mechanics and the Green Team, a bunch of disconsolate teenagers employed for the summer by the Newfoundland Government to wander around National Parks and learn about invasive species, and s/he created Minke whales to cheer them up.
On the third day, God created ecologists; and porpoises and icebergs for the artist to wonder at.
On the fourth day, God created salmon and black bears.
On the fifth day, God created Lion's Mane jellyfish and caribou lichen.
On the sixth day, God created double rainbows and Moose.  And the moose did bark or growl, or perhaps just had bad indigestion.
On the seventh day, God decided s/he had been pretty busy, and decided to spend a couple of days resting out at a cabin on the coast with no electricity and only patchy radio coverage.
The artist gets to do all of this too, she has decided she is in any one of, or perhaps all of the heavens.  The sun is shining, the air is warm, she has plenty of food and is meeting wonderful, generous, helpful people.
She has not forgotten you, and you are entirely within your rights to feel completely jealous, but she does send her love.
Bare, rugged, rock
12 July 2009
Newfoundland is a volcanic rock.  Bare, rugged, rock, looking as if it has just been pushed up by giant fingers – wrinkled, sticky skin, the ancient flesh of a weary fisherman.  The rock – striped between the striations of stony outcrops, inkwells of sepia pooling in the dips as if the whole island had just, only just, emerged from the sea, like droplets on the back of a great turtle just lifting itself out of, or perhaps just sinking back into the ocean.
The fortunes of Newfoundland come and go, but you get the feeling it is only just keeping its head above water.  None of it is very high.  What they call a mountain out here would be regarded as a small hill by most of the world (except perhaps the Dutch..), and inbetween all the slight bumps are ponds (lakes to us) and pools and bogs and marshes and fens.  On the rocks, lichens and mosses struggle to find a foothold.  Once they have, they start to form soil, and larger plants can establish.  In a few inches of soil, brave trees: black spruce, trembling aspen, larch, pine, fir grow as they can, battered by the wind, buried by the snow, soaked by the saltwater.  In Canadian terms, trees are small here.  None of the huge westcoast towering forests, just trees struggling to survive; straggly, bent, or cut down for building as soon as they grow tall enough and straight enough.  It is not the most beautiful or most awe-inspiring landscape I have seen, but look a bit closer between the trees, glance down at your feet as you sink into ancient bogland and the world is full of jewels…
The provincial flower is a pitcher-plant, for example.  The flower is about 20cm tall and bent over like an umbrella, inspecting its pots: red and green vessels tempting small insects into a watery lair.  The theme continues with the sundew – tiny stalks hold up a minute spoon covered in little sticky lollipops.  A fly tastes, and the spoon bends round as the lollipops engulf their stuck victim.  Caribou lichen is the stuff model-train enthusiasts paint green and use as trees by the track.  It grows in profusion here – dry and crunchy in the sunshine, soft and bouncy when there is any moisture in the air.
The staff of Terra Nova National Park are without exception cheerful, helpful and knowledgeable.  They range from scientists and ecologists, to carpenters and 'interpreters' who explain the wildlife to visitors, write and perform shows during the evenings and run programs during the days on anything from edible plants to archeology.
Newfoundlanders are not all convinced by the Park.  There is strong local feeling about all sorts of issues like salmon fishing, sealing, roads and water use, and one of the strange anomalies is that the park covers only the land and intertidal zone of the ocean.  The sea is not part of the park, so any visitors entering by boat are not registered and cannot easily be watched.  The park is being steadily destroyed by 'alien invaders' too.  Unwanted plants are seeding themselves too freely, and moose and snowshoe hares have no natural predators but attack the vegetation to a point where it cannot recover.  During my stay here, work is progressing on ideas for controlling the moose population and preparing for prescribed burns to regenerate areas of black spruce.
Somewhere between
5 July 2009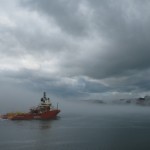 St John's is a strange city.
Somewhere between small fishing village and major international port.
Somewhere between twee, brightly-painted, wooden toytown and concrete monolith.
Somewhere between sunny, warm, seaside holiday resort and a wall of dense, dank, deathly fog which rolls in through the harbour Narrows and over the hills with no warning.
The skyline is dominated by the Catholic basilica and The Rooms Provincial Art Gallery – the new religion of art.  The steep slopes of the city are covered with houses and churches, The Benevolent Irish Society – a non-denominational charity set up to help " Irishmen or people of Irish descent". Non-denominational maybe… – and token 'parks' to celebrate the various other nations who helped create St John's and were steamrollered over by the British and Irish.  The harbour holds a few yachts and several enormous steel-hulled supply ships for the oilrigs, which are now the main employers since the cod have gone.  The ships look fit to break through ice.  They have to be.
To the north, the harbour is protected by Signal Hill.  Remains of military barracks can still be seen, and during the summer actors recreate some of the battles fought over many years for possession of St John's.  The French and English spent many years fighting over the fishing rights – the French were pushed out to the west of the island, but never allowed to settle, and finally gave up their claim to that area in exchange for the islands of St Pierre et Miquelon which remain part of France to this day and lie just a few kilometres off the south coast of Newfoundland.
Signal Hill is also the site where Marconi received the first transatlantic wireless signal from Cornwall in 1901.  They are very proud of this fact and there are large metal plaques up all over the hill to tell you about it, but it was only by chance that Marconi came here.  Previous sites had been destroyed by storms and he chose Signal Hill at the last minute and told no-one about his experiment in case it didn't work.  In the end, and after losing various bits of equipment to the high winds, he succeeded in hearing the three dots of the Morse code for "S" across the Atlantic.  Next time someone's mobile goes off in a library, blame him.
Culturally, this place is as far away from western Canada as it is physically.  It is actually nearer to Britain than Vancouver and feels it in every way.  Locals speak with a strange accent somewhere between Canadian and Irish.  (Cod Irish, maybe…)  The culture is hard work and harder play, drinking is a major pastime and eating is done to keep out the cold.  Out west there were salads and organic delis.  Here there are cubes of deepfried pork fat with your codtongues and all-night bars.
I have really enjoyed the city, but I can't wait to get out into the forest, to the quiet shores of Terra Nova, and to some smaller outport communities.  And the capelin are due in any day.
Tales of a hitchhiker on Salt Spring Island
5 June 2008
…The man from New Zealand in his pickup.  Building a house on the north end, all the trees he chopped are now going to make the deck and the fittings.  He came to Salt Spring for a weekend 29 years ago and now his son is in his final two years at the high school.  Told me about the days of fishing, farming and forestry.  Now it just seems to be about real estate.
…The cleaner in her old two seater, with the terrible tyres that don't stop in the wet, so we nearly ended up in the back of someone' s pickup.  She moved from Malta when she came to visit the man she had been penfriend to since the age of 11 and ended up marrying him.  They have a parrot.
…The young woman who moved here aged 1, left to get training and came back as a careworker.  The only thing missing in her life is a man, but there is a big unbalance of men and women on the island, so the odds are not good.
…The young couple who moved here a year ago and find it too quiet so are moving to Vancouver.
…The mother and daughter from Quebec in their beaten-up campervan.  The daughter is going out with a fishmonger from Ganges, France……………….
…The woman picking up her son from the ferry.
…The woman on her way to get gas for the car, as 'someone left the tank empty'.  Not sure if we would make it to the gas station, but the last bit was downhill.  They moved here after 30 years in Saskatchewan,and England before that, but her daughter misses Saskatchewan.
A lot of people have moved from all over Canada.  The 40 above and 40 below temperatures are 'fine while you're young', but they are seduced by the mild winters and the lush vegetation and fed up with shovelling snow.  I read my great-great grandfather's journal and find his reasons for moving were much the same.
Nothing has really changed in 100 years. The gadgets are different, but early settlers were concerned about good axes and fashionable shoes. The island has Wi-fi, and a new swimming pool, a theatre and state of the art coffeeshops, and also tibetan yaks, llamas, a fleet of yellow schoolbuses, huge yachts and kayaks, farmers and technicians who work with space-stations, people who will fix your diesel-engine and others who will read your tea-leaves.
As some great artist said ' People are the same everywhere'.
So, now I finally made the news, I think it's about time to leave.  That and the confirmed sightings of a black bear on the island.
From now on it's all working up the images I have from my 4 sketchbooks.  The results will be available to see in the Mediatheque Lucie Aubrac, Ganges, France, from 5 – 27 September this year.  It would be wonderful to see you all there.
Blog archive: