An artist in the Arctic – jumping in at the deep end
Ashburton Arts Centre
29 November 2018—29 November 2018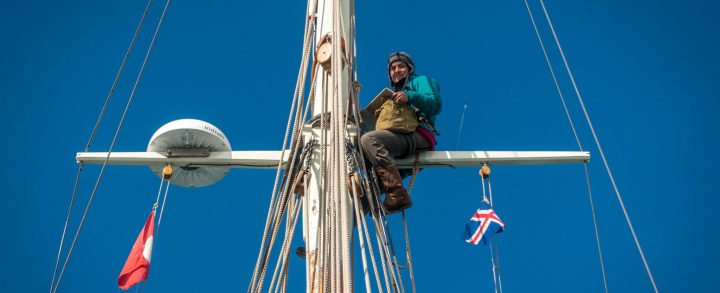 How an artist learnt to sail while sketching pictures of melting icebergs.
29th November
7.30pm
Ashburton Arts Centre, £10 (includes soup)
In 2015 Naomi Hart accepted a once-in-a-lifetime opportunity to sail
as expedition artist
from Cornwall to East Greenland in the remote High Arctic . The boat – a 44′ wooden Scillonian Pilot Cutter. The experience – unforgettable.
An illustrated talk at Ashburton Arts with sketches and photos by the artist, followed by soup and a chance to chat, buy cards and box sets.
15 West St, Ashburton, Newton Abbot TQ13 7DT
'ice report' – illustrated talk
Boatyard Cafe and Bakery
27 June 2018
I spent the last year as Leverhulme artist in residence at the University of Sheffield working with the ice scientists and spent last August in the field with them in Svalbard.
I currently have an exhibition of my work 'ice report' on show at the Boatyard Cafe and Bakery on the quayside in Exeter and will be doing a talk there about the work and my experience as artist in residence on
Wednesday 27th June at 6.30pm.
The work looks at research into cryoconites, the carbon cycle, climate change and human influence on the environment, and provides a different perspective on science, industry and art.
I recently gave the talk at the Royal Geographical Society in London, and quotes from the audience included:
'Thought provoking.

 

Made me rethink my preconceptions of art.'

 

Lorraine Miller
'An eye-opener about the links and opportunities between art and science.'

 
Dr Ausilio Bauen,
Head of BioEnergy Group, Centre for Energy Policy and Technology, Imperial College London.
The talk is free to book, with donations on the night to cover costs, and the Boatyard Cafe will be providing a meal afterwards for anyone who wants to stay and chat over a meal.
60a Haven Rd, Quayside, Exeter EX2 8DP
'An artist in the Arctic' – voyage to Greenland illustrated talk
Lympstone
28 February 2017
28 February, 7.30pm Lympstone
'An artist in the Arctic'
Expedition to Greenland: illustrated talk
I've been invited by Lympstone Art Group to give a talk at
Methodist Hall, Chapel Road, Lympstone
Tuesday 28th February
7.30pm
Members free, or £3 on the door, no booking required
The talk will be illustrated with photos and images from my sketchbooks. Cards and box-sets with images from the sketchbooks will also be available.
On June 18th 2015, I set sail from Penryn with the crew of 'Ezra', a 44' wooden Pilot Cutter, heading for the Arctic. We visited the Faroes and Iceland en route for Scoresbysund in East Greenland.
Never having sailed before, I learnt to crew whilst recording the journey as official expedition artist. I took photos and sketched life on board in my carnets de voyage.
The privilege of seeing the Arctic has changed the way I view the world forever and has had a profound influence on my work. I am still trying to come to terms with the astonishing beauty and fragility of the region and its simultaneous strength and resilience. It will be lovely to see you there, bring friends! Tales of whales, 'learning the ropes', and images from the land of the midnight sun to brighten a dark February evening…
'As someone whose job it is to make presentations, I can say that yours was as good as it gets.'
'A natural and engaging speaker… A truly inspirational trip and talk'

If you'd like to book me to do an illustrated talk for your group, please get in touch.