The art of politics
2019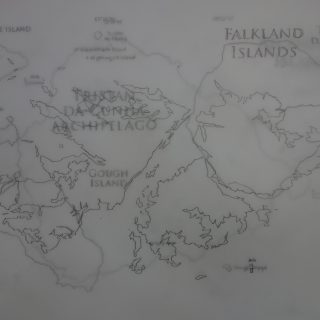 The Art of Politics: Representing Sustainability Challenges in the UK's Overseas Territories
Britain's fourteen overseas territories host globally significant biodiversity for which the UK Government retains responsibilities. These fragile and unique environments are threatened variously by habitat loss, invasive species, over-fishing and climate change. In this ambitious collaboration, artist Naomi Hart uses fine art to interpret and communicate research by political geographer Dr Nichola Harmer on how UK decision-makers view and respond to sustainability challenges in these distant territories. Through images and mixed media, the project visually highlights to diverse audiences the political, spatial and scientific complexities of supporting sustainability in non-independent offshore territories.
Blogpost One: Dr Nichola Harmer
An innovative collaboration between artist Naomi Hart and human geography lecturer Dr Nichola Harmer is exploring creative ways of representing sustainability challenges in the United Kingdom's overseas territories.
The project, which is funded by the Sustainable Earth Institute's Creative Associate scheme, involves analysing and communicating Parliamentary debate on marine conservation, biodiversity and climate change in the overseas territories.
The UK's fourteen overseas territories, which are hugely diverse and include many remote islands, are estimated to contain over ninety percent of the combined UK and UK overseas territories' biodiversity. They include globally significant habitats such as coral reefs, polar environments and tropical forests. Ascension Island in the Atlantic is an internationally important breeding site for green turtles and the Ascension Island frigate bird; Gough Island in the South Atlantic hosts significant numbers of penguins and other seabirds and the oceans around many of the overseas territories support recovering populations of whales, sharks and dolphins.
UK Parliamentarians from across the political divide have pushed for greater recognition of these important habitats and have urged the UK government to do more to support sustainability in the territories. This includes the UK Government's Blue Belt programme, which has established marine protection areas in the oceans around several overseas territories.
Over spring and early summer 2019 Devon-based Naomi Hart will be working with Dr Nichola Harmer to analyse and interpret parliamentarians' discussion of climate change, biodiversity and coral reefs in the overseas territories. Naomi will then create artistic representations of the findings, which will be exhibited later this summer.
It is hoped the art works will raise wider awareness of the sustainability issues in the overseas territories and the role of the UK in responding to these issues. The project will also provide a case study regarding the challenges and opportunities for collaborative work between social scientists and artists working on sustainability issues.
Themes